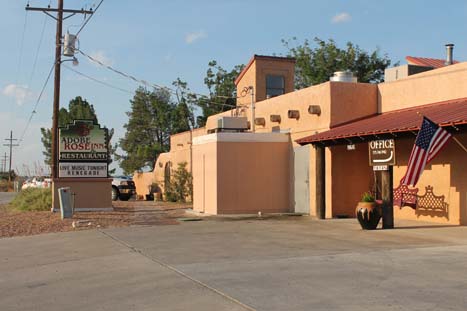 Welcome to the Adobe Rose!
The Adobe Rose Inn in Artesia, New Mexico is a boutique Inn and consists of five guest rooms, a common area with computer and internet access, laundry room and personal living quarters covering more than 5000 square feet. It is surrounded by lush, green gardens and walkways. It is as an oasis in the beautiful deserts of New Mexico
The Adobe Rose was previously operated as a Bed & Breakfast, but when purchased in 2012 what was the on-site living quarters is now home to the Adobe Rose Restaurant. Which offers fine dining featuring the 2014' New Mexico chef of the year Chloe Winters.
Hope you will visit us to experience our southwest hospitality!
The Adobe Rose is located just 1 hour from Carlsbad Caverns and the Roswell UFO museum, an essential part of a " complete journey through New Mexico".
Home | About Us | Tour | Amenities | Reservations | Policies | Contact Us | Reviews