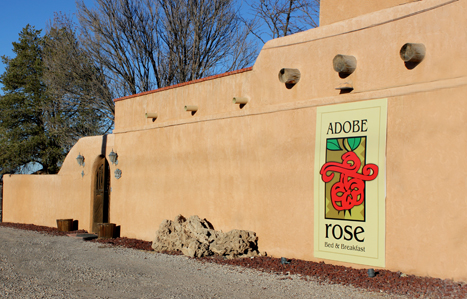 About Adobe Rose Bed & Breakfast
The Adobe Rose offers hospitality in true Southwestern style and setting.
When the College of Artesia opened its doors in 1966, buildings were available for dormitories and classes, but not for the arts. The philosophy of the college was to offer students opportunities for hands-on experience, and what could be more hands-on than designing an art building from foundation to roof?
Under the direction of the art department, the "art hut" began to take shape. Using clay found near the building site, students formed the adobe blocks that make up the walls of the building. They persevered through muscle-numbing heavy construction, until the money ran out. But their effort for the arts did not go unnoticed. Among professional artists who donated their works to help finance the art hut was Peter Hurd, already a well-known New Mexican artist. He offered some of his lithographs and original paintings for an auction to benefit the cause. Hurd's support helped raise $6,000, and in the fall of 1967 at its dedication, the art hut became the Peter Hurd Gallery in appreciation of the artist's generosity.
Today, the original adobe blocks are still visible on one wall. Verandas shade both north and south sides of the building. All of the Adobe Rose's furniture is custom-made from lodgepole pine, and a mammoth, mirrored sideboard that once dominated a Western saloon now dominates the spacious Common Room. Continental breakfasts and late afternoon snacks are offered along its ample counter.
Home | About Us | Tour | Amenities | Reservations | Policies | Contact Us | Reviews